August 8th to September 12th

Opening August 8th
6 pm to 8 pm followed by a potluck dinner
Music by Portable Sunsets starting at 9 pm
Upstairs Gallery: "... and I Feel Fine," presented by Ghost of a Dream with friends
Bridget Batch, Lilly McElroy, Peter Segerstrom, Ashley Wick, Letha Wilson and Skye Gilkerson
Downstairs Gallery: Moira Kelly, Christine Owen and Ryan Frank
Click here to read a review in the Millbrook Independent
______________________________________________________________________________________________________________
Upstairs Gallery:
Artists Lauren Was and Adam Eckstrom, who work together as Ghost of a Dream, will present the third exhibition of the summer 2015 season at The Re Institute. "...and I Feel Fine" runs from August 8th to September 12th.
The centerpiece of the show is their work on video, called "Gone the Sun," which was exhibited last year in Brussels and returns to the United States from Galerie Paris-Beijing in Paris, where it was shown this past February.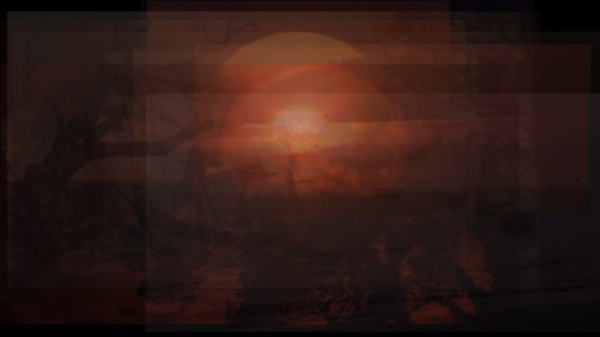 Eckstrom and Was met at the Rhode Island School of Design, and now split their time between Brooklyn and their home in Wassaic. As Ghost of a Dream, they document and critically explore the futile hopes and dreams of contemporary materialistic society that is constantly on the search for a newer, better life. Their work is as beautiful and epic as it is amusing and thoughtful. Many of their pieces are created from the debris of a materialistic society: discarded lottery tickets, the covers of romance novels, baseball cards and other meaningful and meaningless ephemera of modern life.
With their new work on video, "Gone the Sun," they attempt to capture the anxiety of our times: overstimulation, relativism and the flattening of meaning. Sixty layers of images of sunsets captured from Hollywood films are paired with epic melodies, intentionally composed to pull on our heartstrings and elicit emotional compliance into a confusing and agitating cacophony. This work addresses the larger question of the roles that fantasy and reality play in our self-understanding in these early days of the 21st century.
Ghost of a Dream's second work in the exhibition will be a collaborative piece with a number of photographers. The participating photographers are Yolanda del Amo, Rachel Barrett, Jeff Barnett-Winsby, Caroline Burghardt, KEVIN COOLEY, Grant Cornett, Kirk Crippens, Lisa Dahl, Sean Fader, Ryan Frank, Danny Ghitis, Kate Johnson, Michelle Leftheris, Basim Magdy, Esperanza Mayobre, Samuel Sachs Morgan and Lauren Silberman. Recently Ghost of a Dream has been collecting video from Hollywood films of sunsets and aligning then by their horizon lines in multichannel video installations; for this work they have asked 17 photographers to send them images they have previously shot of the sunset. Ghost will then align these photos by the horizons, as they have been doing in their recent video installations.
For their show at The Re Institute, called "... and I Feel Fine," they have invited six other artists to create and share works that use imagery of the sun setting and that evoke the moment where the day becomes the night, where the end of one thing becomes the beginning of something else. The six artists are Bridget Batch, Lilly McElroy, Peter Segerstrom, Ashley Wick, Letha Wilson and Skye Gilkerson.
_______________________________________________________________________________________________________________
Downstairs Gallery:
My work is simply economical.
Economy of action and thought.
I work with structure within boundaries.
I like to be able to enter the work as soon as I enter the studio.
I do not like to make decisions and I don't make mistakes.
I respond to every mark I make by making the next one.
The materials are organic layers: wood, plaster, gum, pigment and wax.
I apply direct physical actions to them: sanding, mixing, spreading, grinding, gouging, brushing and polishing.
I produce a physical object. It must heft. and be touched.
I love my tools and materials. I love to work.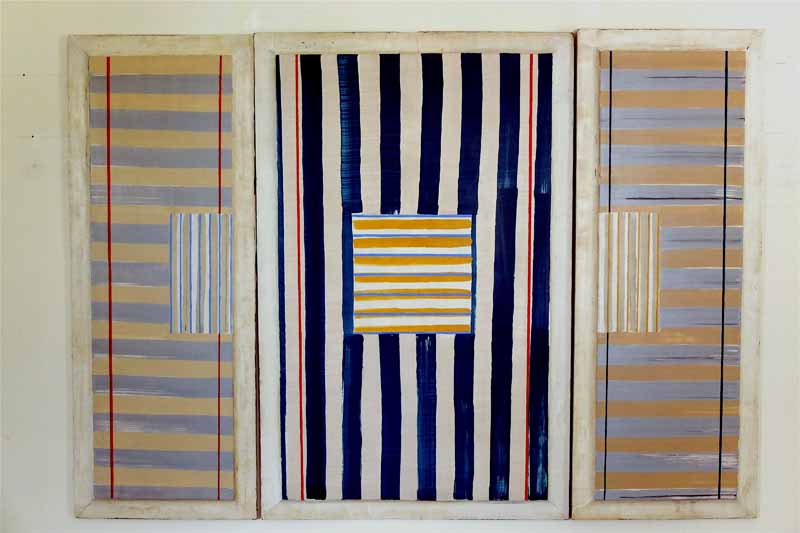 Christine Owen

This ongoing series of ceramic sculpture expands on my interest in the forms and the functions of tools. In these re-imagined implements, domestic and mechanical tools are abstracted and combined to describe a physical and psychological potential for movement either directly in the structure or in their alleged function. The human condition is represented in the holes of a colander alluding to draining and holding or the tip of a funnel with a purpose to direct flow. Specific details of the forms are sharpened while other areas reflect the initial softness of the material and process that mimics the life of an object growing softer over time and use. The large scale of the work compels a physical relationship with the oversized tool that deepens the sensual experiences of the hand and the eye. A romantic sense of familiarity of the form is evoked, although not quite placeable, that stimulates a consideration for the aesthetics of tool design and metaphors that lie within.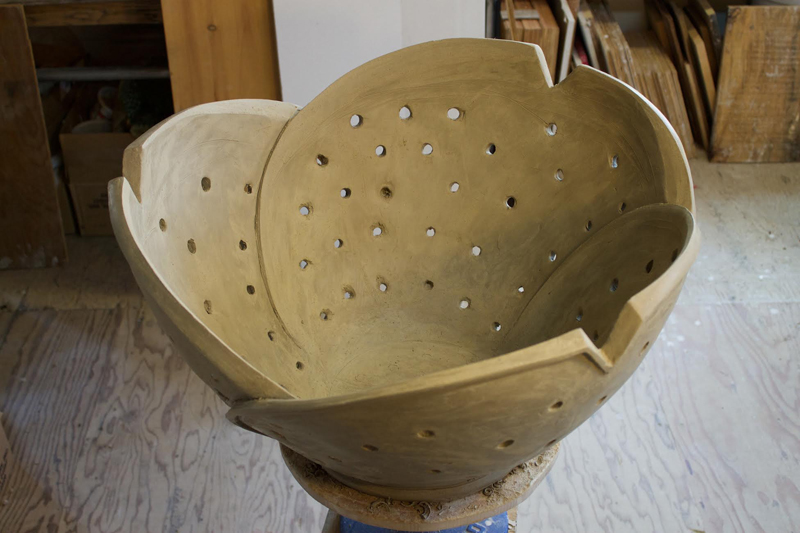 For his installation at The Re Institute, Ryan Frank will create an installation based on the landscape of Iceland using a combination of object, image and sound.
Ryan Frank is an artist and curator based in Brooklyn, NY, and Sharon, CT. He's had solo exhibitions at the Invisible Dog Art Center and the Mattatuck Museum, and has exhibited his work at Gallery Rene Mele, Recession Art, the Wassaic Project, The Re Institute and CR-10. Ryan is an occasional performer and has collaborated on dance and performance projects with choreographers including Laurie Berg and Katie Rose McLaughlin. His curatorial projects include "Ode Hotel" at the Wassaic Project, "Used Books" at Winkleman Gallery, and "Assembly Required," a roving exhibition within a sukkah that will have its second incarnation at the Invisible Dog in the fall of 2015.