Megan Berk:

There are several definitions of authenticity. One is: "worthy of acceptance or belief as conforming to or based on fact." Another is: "true to one's own personality, spirit, or character." Two ideas claw at each other. In the gospels, there is Lois, Timothy's grandmother. Paul wrote of her "unfeigned faith." Rembrandt painted her devotion as stillness, scripture clutched in her sacred lap. Her gesture is worthy of acceptance or belief, halfway between giving and guarding, ever hanging. These paintings are a contemplation on that gesture.

Megan Berk was born in Los Angeles and currently lives and works in Millerton, NY. She received her MFA from Pratt Institute and has exhibited her work at the International Print Center New York, Recession Art, Long Island University's Salena Gallery, Silas Marder Gallery, Bowman/Bloom Gallery, Scope Art Fair and the German House of the German Consulate. Her work, which consists primarily of representational paintings on board and silk-screen prints, uses recognizable imagery to investigate personal narratives of desire and anxiety, and has received mentions in L Magazine, California Modern, Psychiana and the New York Times.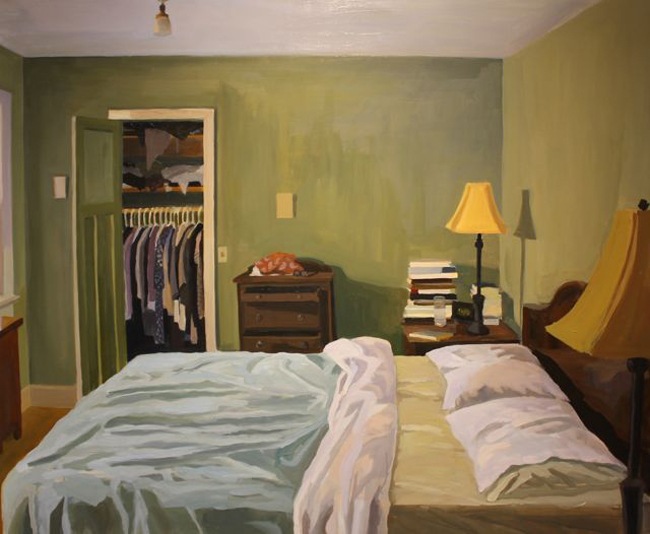 Colleen McGuire
February Bedroom
Colleen McGuire is an artist from Sharon, CT, whose painting evolves from perception and imagination. Her light-filled interiors evoke a sense of time and place. Rooms infused with light or the absence of light invite the viewer to a place that suggests human presence through the arrangement of objects within an architectural setting. She depicts scenes from a familiar world: her own house, where she stages her interiors, with careful consideration of space, light, and composition.
The paintings shown at The Re Institute represent Colleen's ongoing exploration of the meditative act of observational painting through the motif of domestic interiors. Her influences include Edouard Vuillard, Edward Hopper, and Fairfield Porter. Colleen holds a BFA in painting from Purchase College and an MFA from Western CT State University. She is an adjunct professor of art at Western CT State University.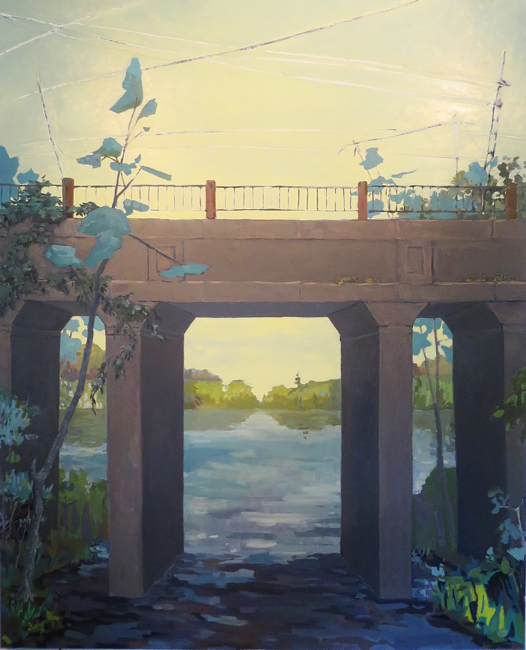 KK K
ozik
Casuweay
2015
oil on linen
63 x 51
KK Kozik's landscapes and cityscapes have emerged from a long career in paint as one of the most dynamic areas within her oeuvre. While she had previously been known for paintings that were often described by critics as narrative or intellectual, she has now turned toward a way or working that is more sensual than brainy and more intuitive than planned. What remains consistent, however, is a strong sense of structure. While this quality moves to the fore, as in her approach to architectural elements, at other times it is merely an armature for improvisation, much like how a musical riff overlays beat and melody.
In the paintings included in this exhibition, Kozik focuses on the experiences of her life. From the pristine depiction of her neighbor's house at dusk to a moody painting of an overpass on the Bronx River Parkway, Kozik's paintings are lush and painterly and show her reaching for new territory to address. The new-found simplicity of these works, surprisingly, amplifies their power. Likewise, as Kozik reduces the interplay of her head in the paintings, the strength of her hand becomes more apparent.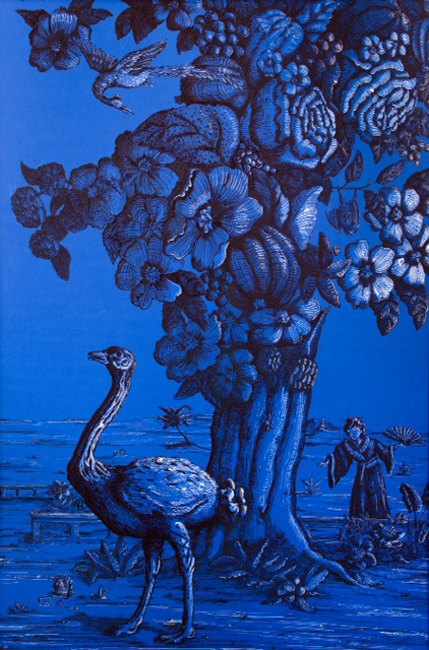 Sara Nesbitt
In the Garden II
2014
Ink on paper
64 x 40
Sara Nesbitt in large-scale drawings tells stories of places and scenes, influenced by the present and tinged with the past. Figures and animals, representing our most basic feelings and metaphors, run, dance, and chase each other through the landscape. The architecture of buildings in the drawings represents reason and the heartbeat of the urban world. Nesbitt's work tells a story, a history of a place, half imagined, half experienced, always influenced by the cities she has lived in.
Using pen and ink, and mixed media, Nesbitt's work creates scenes of unsettled idylls. Ambiguous space and the interactions between figures and animals explore important themes of our time such as: the ideal of the rational versus the accepted order, Natural Man versus the Civilized World, democracy versus inherited status, and individualism versus the collected good. Using referential historical figures from the 17th century - a time when the West,and our Country were discovering new ideas, philosophies, and lands - the unintentional ambiguity these figures reflect are an apt reflection of our own time.
Downstairs: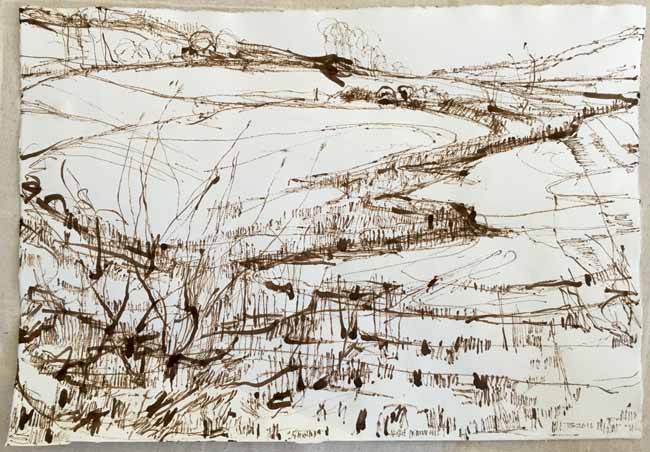 Tom Goldenberg
White House Crossing
Ink on Paper
17 x 23
2015
Tom Goldenberg will be working on-site on the ground floor of the Re Institute from April 2nd to July 15th. Goldenberg's subject matter has made use of the landscape neighboring the gallery on a regular basis during the last year and a half. Over the next two months Goldenberg will work directly from the landscape behind the Re Institute. The resulting work will be exhibited in the gallery/studio space allowing us to see how he uses the landscape to inform his work.
I am excited to be able to work from a consistent vantage point from the back of the Re Institute Barn. It is unusual to have the same place to produce work and exhibit. The viewer will have a chance to see my working process and the development of drawing and painting in this unique way. The process and material of drawing and painting become something beyond empirical observation. The work is the result of my processes and feelings.
The Taconic Range: North of Millerton NY has been a source of many of my drawings. I worked from this environment on a daily basis over the last year and a half (it is the subject of an online exhibition Northeast x Northwest www.tomgoldenberg.com). I find that the scope and drastic foreshortening of this landscape is compelling. It is a great vehicle to contrast the up-close marking with the receding furrow lines racing to the distance and the alizarin, cobalt or ultramarine hills. I like being able to incorporate drastic linear drawing into a tonal painting.