Moira Kelly:

Moira's work is on 5/8's plywood panels with 6 coats of a plaster mixture developed over the years. Usually this ground is white but in some cases the plaster is marbled. A scheme or pattern is incised into the ground using a stylus and then painted freehand with a mixture of acrylic and egg white. Finally the paintings are coated in beeswax and buffed. Most of her work is small, but it is often shown in grouped combinations. All of it is intended to be handled as well as looked at.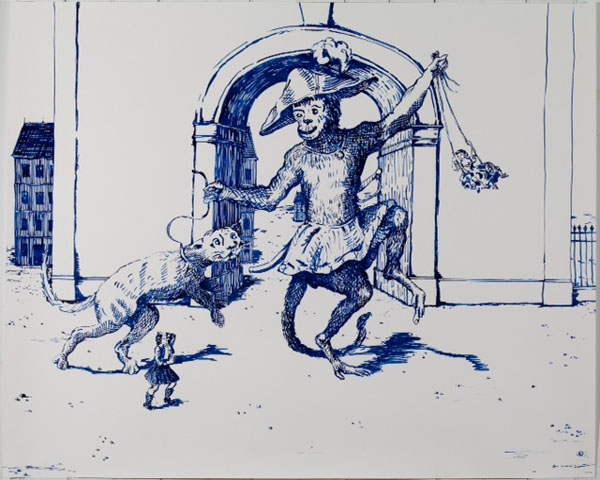 Sara Nesbitt

Blue Monkey

42 X 46

ink on paper

2013
Sara Nesbett:
Sara's work tells stories that are both in the present and imbedded in history. The characters in these tales are human, animal and architectural. Figures run, dance, and chase each other across her landscapes. They portray base feelings of desire, longing, and exploration. Her work tells a story: a history of a place half imagined, half experienced, always influenced by the cities she has lived in.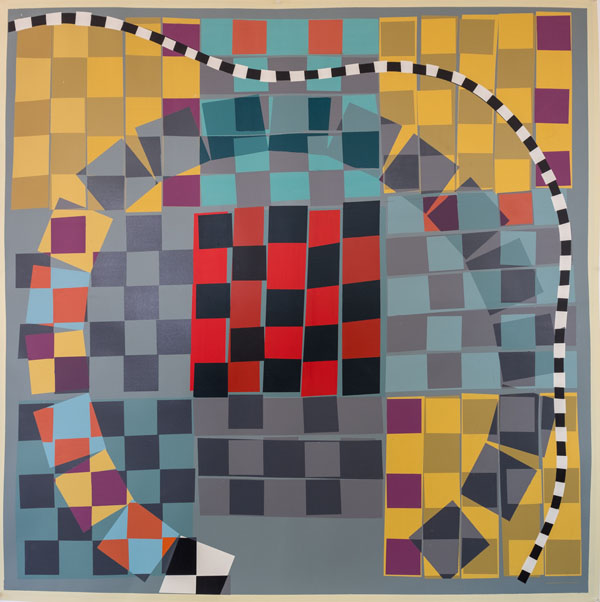 Joel Foster

Mind Games 2.

Acrylic on paper

55 X 55
Joel Foster:
Joel works in series, following a theme. In this series, squares predominate: from the shape of the paper to the elements within. He riffs off patterns of squares, like a chessboard gone wild. The squares are aligned and misaligned, loosely arranged in a checkerboard pattern. The eye is drawn to areas that do not quite line up. Foster enjoys the effort it takes to make the squares imprecise rather than strictly aligned. The colors are lively and sedate by turns. One color is placed on top of the other like different plates in a multi-colored block print. Effort is made to find balance giving the look of a spontaneous image with a few seeds of discord thrown in.
Joel lost his central vision to a genetic disease (Stargardt's Disease) ten years ago. Because he still has some peripheral vision, he can still paint, but must use more tactile methods to complete a picture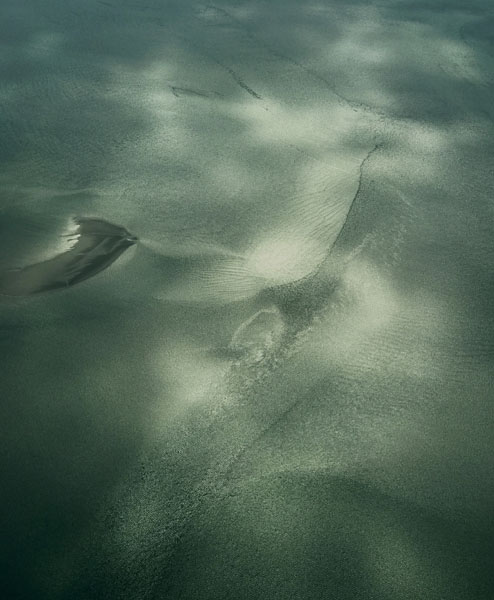 Serge Madikians

Final Descent Into

KCOX

digital print
Serge Madikians:
Serge is an IPhone photographer. He is constantly in motion. In his travels he captures the ephemeral, elusive qualities of light cast on a landscape, a barn situated in the valley, or the undulating lightness of air and mist while flying. He photographs moments that inspire him; moments which confirm and affirm his deep desire to create and his ever changing hunger to feel alive and connected.